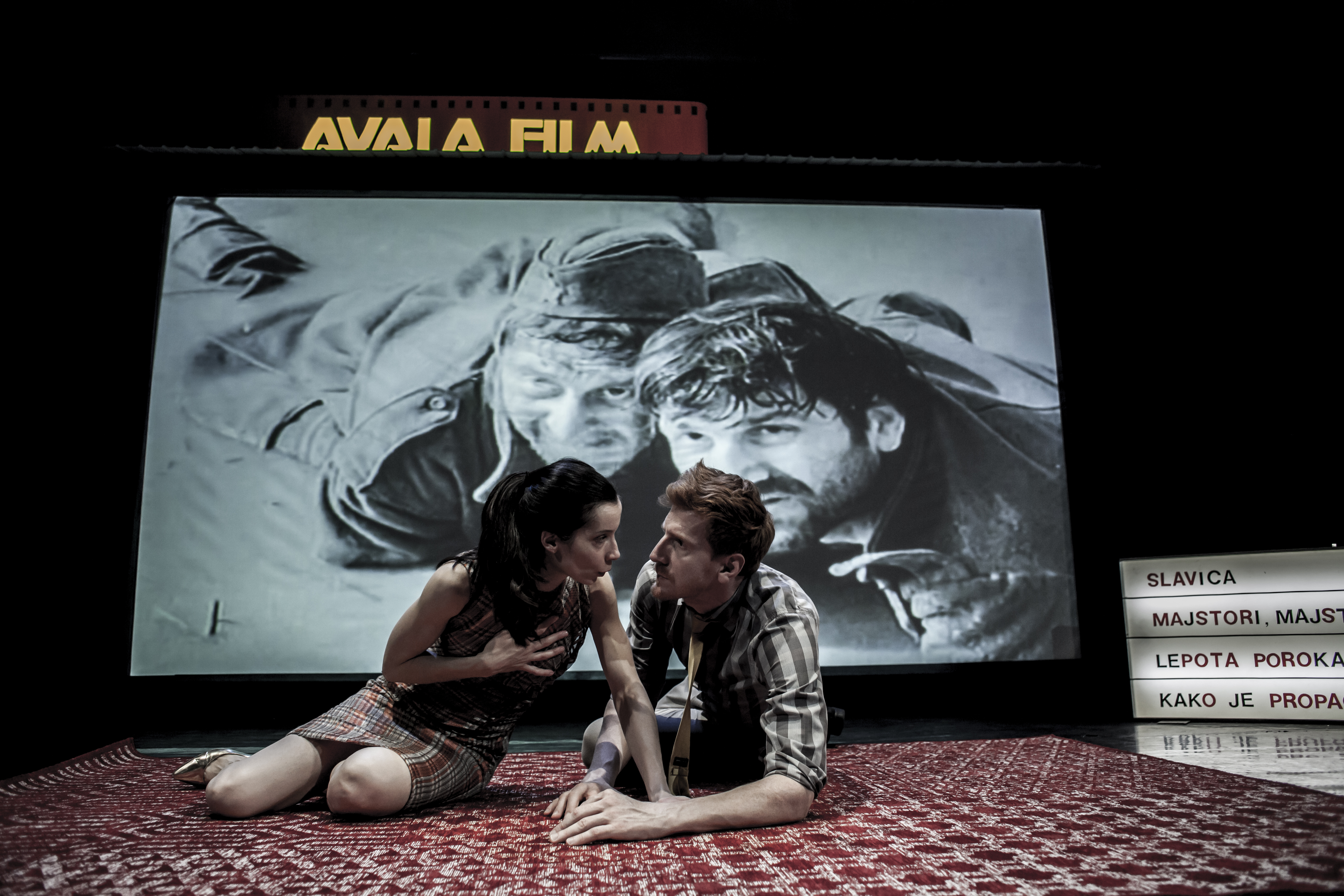 "An elaborate elegy filled to the brim with playfulness, skill, imaginative twists and turns."
Comrades, I'm Not Ashamed Of My Communist Past
(2016)
An autobiographical performance with two actors, one screen and 57 movie inserts
In Comrades, I Am Not Ashamed of My Communist Past acclaimed theatre director Sanja Mitrović and renowned Serbian actor Vladimir Aleksić address the recent history of the Socialist Federal Republic of Yugoslavia, a country which now exists only in imagination and memory. And yet the fundamental idea of SFRY, as a multiethnic, multi-religious, socialist state, is still relevant for the European struggles of today. This is the conviction which brought together these two performers, and childhood friends, who both emigrated in 2001. While Sanja still lives and works in Western Europe, Vladimir returned to Serbia, re-building his life there.
This investigation takes place through a dialogue between film and theatre, intertwining the course of performers' lives with the history of the Yugoslav cinema, the country's socialist past, the sense of community, the nationalist wars, the neoliberal revisionism, and the devastation of their hometown. In today's society, is it possible to remain loyal to ideals which we once believed in? What is it that still unites communities which share the same space?
As the performers' assess the value of their lives and work, and the weight of choices they made, they lead us to a sharp analysis of the present. Comrades, I Am Not Ashamed of My Communist Past brings face-to-face the embodied personal memories and images of a national cinema to investigate what remains from the shared values of solidarity and social justice in times of materialistic individuality.
Cast And Credits
Concept and performance: Sanja Mitrović, Vladimir Aleksić. Directed by: Sanja Mitrović. In collaboration with: Vladimir Aleksić. Choreography by: Sanja Mitrović. Dramaturgy: Jorge Palinhos, Olga Dimitrijević. Set and Costume Design: Frédérick Denis. Light Design: Giacomo Gorini. Music Consultant: Vladimir Pejković. Assistant Director and English translation: Sinisa Mitrović. Light Technician: Dragan Đurković. Sound Technician: Miroljub Vladić. Sound and video technician tour: Wouter Dupon. Video Editor: Nikola Vrzić, Siniša Mitrović. Camera: Vladimir Pavić. Photography: Marko Berkesš. Consultants: Cis Bierinickx
Producers: Jelena Knežević, Tamara Pović. Production & Tour Management: Liesbeth Stas. Produced by: Sanja Mitrović/Stand Up Tall Productions (Amsterdam) and BITEF Theatre (Belgrade). Co-Produced by: Beursschouwburg (Brussels). Partners: Pianofabriek (Brussels), Centar Film (Belgrade), Yugoslav Cinematheque (Belgrade), Avala Film (Belgrade), Film Center Serbia (Belgrade), National Theatre "Tosa Jovanovic" (Zrenjanin). Supported by: Flemish Community, Flemish Community Commission, City of Belgrade
Press
Mitrović and Aleksić establish a bridge to the past as comic video jockeys. (…) But their investigation of that enigmatic thing called memory is not naive in any sense. What could have come across as a clumsy Tito-Nostalgia is cinematically broken down, meta-cinematically ironised, and pimped up as the critique of capitalism. (…) Watching the spectators was also a part of theatre experience: a very different kind of distanciation than usual. At last! When on everyday basis we are bombarded with images of near and far atrocities, when the surge of adrenaline is triggered so often that the body is overwhelmed at the end of an already catastrophe-addicted nervousness, it feels good to observe the gradual build up of aesthetic excitement. In others as in oneself. (…) From this search of lost time you return with chalk dust on your hands and a poisoned apple in your mouth.

Tages-Anzeiger (in german), 24.08.2016

This is the last picture show of a country which no longer exists. (…) Whether Black Wave (Yugoslavia's answer to the French Nouvelle Vague) or Red Wave (partisan films) Sanja Mitrović and Vladimir Aleksić enact all these film histories about love and war, frequently reinventing the scenes on the screen as their own personal stories.

Zürichsee-Zeitung (in german), 24.08.2016
An accomplished expression of the pain of remembrance and the misfortune of the future, an elaborate elegy filled to the brim with playfulness, skill, imaginative twists and turns, and a triumph of talent and precision. Two protagonists demonstrate stage artistry of the highest order which, in combination with fascinating film montages, results in an important and stylistically quite distinctive work. Personal statements, intertwined with quotations pulled out of films from different eras, create a complex investigation of both the meaning of socialist Yugoslavia and the sorrow of dissolution of this once strong and progressive country into multiple failed feudal statelets in which only misery, criminal and the lack of prospects thrive. (…) A picture of widespread devastation, which surrounds and marks all of us now, has found in this production an honest and multilayered interpretation.

Goran Cvetković, Radio Belgrade 2, 24.08.2016