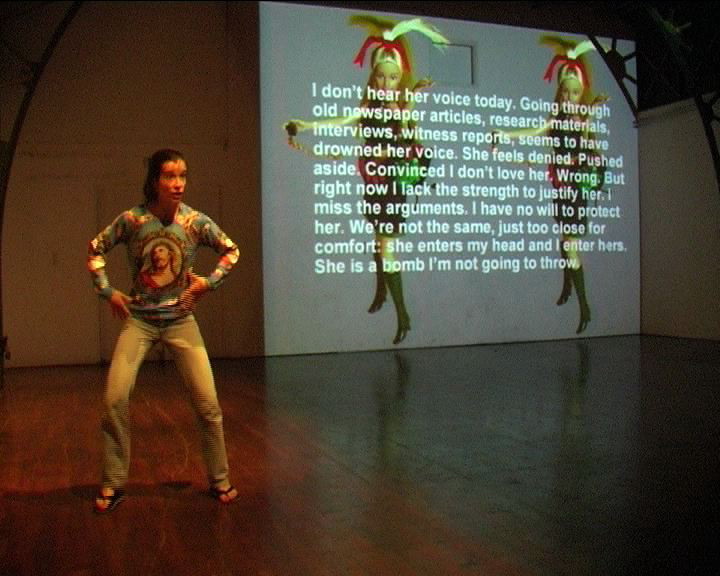 Dhanu
(2005)
Thenmuli Rajaratnam, a.k.a Dhanu blew herself up at an election rally in Sriperumbuduru, Shri Lanka on 21st of April 1991. The attack killed 70 people and the Indian prime minister Rajiv Gandhi. Solo performance Dhanu doesn't represent her spectacular suicide attack. It focuses instead on the issues of training and preparation, the very process in which an artist/terrorist attempts to abandon all interests of her own, leaving behind her affairs, her feelings, attachments, belongings, even her own name. For that reason, the movement is depersonalized and imaginary "terrorist" training is being created: the author randomly choose dance sequences from works created and performed by female artist in different contexts whose energy of the performing could be an energy of the potent ional
"women-bomb". What's the most potent performer's weapon? Is it the body or the brain, or – eventually "the heart"?
The performance uses the audio recording of Helicopter String Quartet by Karlheinz Stockhauzen. The projected text of a Croatian writer Ivana Sajko Woman bomb interprets/narrativizes/deconstructs and manipulates dance samples.
Cast And Credits
Concept & performance: Sanja Mitrovic. Dramaturgy: Borut Separovic. Choreographic sources: Irma Baatje, Nicole Beutler, Desirée Delauney, Gwen Steffani
Its Festival, 2005. .Sources: The performance includes excerpts from several choreographies: Gwen Steffani "What you're waiting for?" performed live on MTV; K.O (Zeljka Sancanin, SOLO), Desiree Delauney – Zero; Nicole Beutler – "The exact position of things", dj Eric P "Call On Me". My performance also features a Power Point lecture "Performance and/or Terrorism" by Borut Separovic for this occasion based on the text "Woman Bomb" written by Ivana Sajko and live audio recodings of "Helicopter String Quartet" by Karlheinz Stockhauzen.