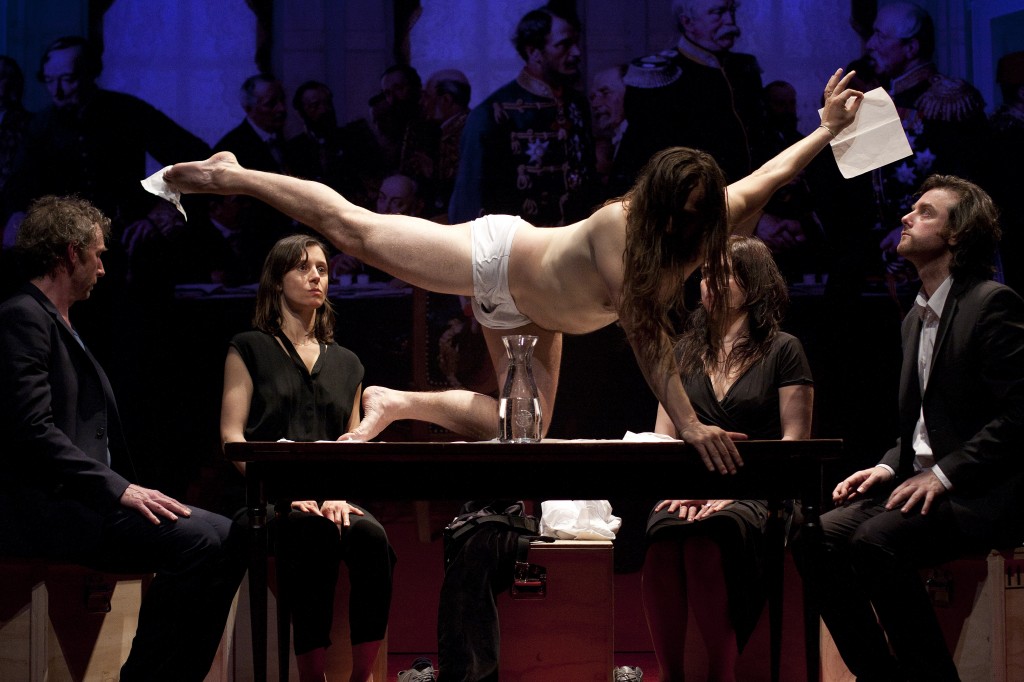 "An audience can enjoy a good two hours of Europeans mocking each other and their own neutrality."
Crash Course Chit Chat
(2012)
Performance with five performers representing five European nations
Crash Course Chit Chat is a piece for five performers, representing five European nations: Germany, France, Britain, the Netherlands and Belgium. It is based, on the one hand, on the performers' testimonies and stories about their homelands, families and personal lives, and, on the other, on historical facts, clichés and prejudices relating to nationality. Crash Course Chit Chat employs documentary strategies to explore the relationship between personal identity and the shared European identity. Playing within a loosely defined framework the performers take part in various task-based situations, games and linguistic exercises. Their aim? To establish which nation is most European. Challenging each other and their own assumptions about what it means to live in Europe today, they are bound to face up to what separates them and to what is it that they all share.
With the future of our continent's fragile Union hanging in the balance, are we aware of the thin line that separates patriotism from nationalism? Can we recognise it in the language that we use or listen to daily? Are we able to trace it back to our innermost thoughts and feelings? Crash Course Chit Chat is poised between the documentary material and its theatrical transposition, offering an insight into our present predicament that is both humorous and critical.
With this new work theatre maker Sanja Mitrović continues her interest in the relationship between the individual and society.
Cast And Credits
Concept/choreography/direction: Sanja Mitrovic. Performers: Katja Dreyer, Servane Ducorps, Martijn Groenendijk, Bruno Roubicek, Geert Vaes. Text: Sanja Mitrovic and the company. Dramatrugy: Maya van den Heuvel-Arad, Felix Ritter. Stage design/architecture&light: Laurent Liefooghe. Sound design: Junkita Murakawa. Translation ENG: Sinisa Mitrovic. Translation NL: Sarah van Lamsweerde. Business and sale managment: Hans Mets
Production and tour management: Alexander Chu. Technicians: Martin Kaffarnik, Jasper Hopman. Publicity NL: Bureau Tam Tam. Intern production: Giulia Menegatti. Thanks to: prof. Andreas Schuck (University of Amsterdam); Goethe Instituut Amsterdam, board members Stand Up Tall Productions, Christophe Meierhans. Crash Course Chit Chat is produced by: Stand Up Tall Productions, Amsterdam and co-produced by: Théâtre La Comédie, Reims and Festival Reims Scenes D'Europe; Huis a/d Werf and Festival a/d Werf, Utrecht; Theater Instituut Nederland.. Supported by Nederlandse Fond voor de Podiumkunst, SNS Reeal Fonds, Amsterdamse Fond voor de Kunst, VSB Fonds and BNG Bank Nederland
Press
Sometimes this play is brilliant, particularly when identity and irony engage in a playful liaison.

Geert Vaes is magnificent in his role as the underdog Flemish Belgian who wins out in a most superior way. -***

Kester Freriks, NRC Handelsblad, 03.09.2012

Europas vitale Körper

Annette Hoffmann, nachtkritik.be (in german), 03.09.2012